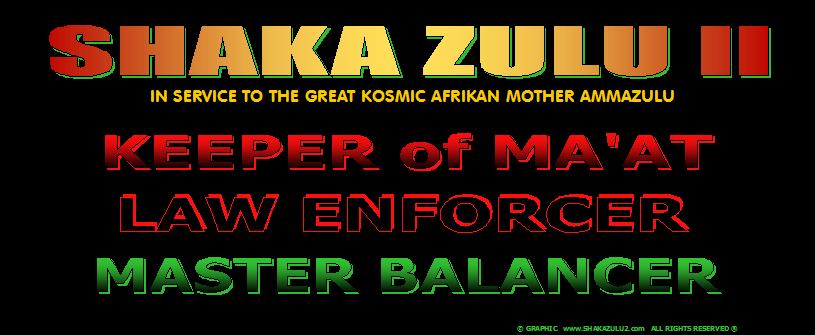 USE THE LINKS ON THE LEFT AND BELOW TO NAVIGATE THROUGH THE INFORMATION SHAKA ZULU SHARES.
Paid Advertisements - ShakaZulu2.com does not endorse the site(s) advertised below. Ads are a source of income only.
End of Paid Advertisements
LIGHT IS KNOWLEDGE

As members of the Family of Zulu Light Warriors, we have ACCESS to a tremendous amount of overstanding that others do not have. We came in with it, we are being RE-MINDED of it, and we are now LEARNING it and ACCEPTING it... LIGHT IS KNOWLEDGE, so the Family of Zulu Light Warriors is the Family of Knowledge...

We have made a vast study of the HISTORICAL MANIPULATION that has been going on on this Planet, just as anyone sent on assignment would be TRAINED for a long period of time before they were sent out into the field. Each of us has been trained, and we have the KNOWLEDGE/LIGHT inside us. Our part is to HIT KEY CHORDS and play our CONSCIOUSNESS into activity so we can go ahead and make the DRONE TONE, or TUNE, or SONG or DANCE WE ARE PREPARED FOR. Our knowledge is inside of us, and as we agree to discover it, it will AWAKEN on deeper and deeper levels. We will become very SELF-SUFFICIENT, those of us who agree to this. We will also become incredibly KNOWLEDGABLE, those of us who DO NOT stop because we are SCARED/AFRAID.

LIGHT IS KNOWLEDGE; IGNORANCE IS DARKNESS...
KNOWLEDGE PROTECTS IGNORANCE ENDANGERS.

We speak to YOU as if you are NOT human because, to us, YOU ARE NOT. To us, you are members of the Zulu Family of Light Warriors, and we know your MULTIDIMENSIONAL selves. We speak to you about dealing with humans because it is our assignment to INTEGRATE with them, SOOTHE them, NOURISH them, and AWAKEN A SPARK OF LIGHT within them so that they are not all DESTROYED... And so that this place can house a new species and a new realm of activity...

REPEAT. WE ARE ON A MISSION/ASSIGNMENT from the future to catapult back into this cycle of existence to incarnate many times so that we can overstand WHAT HAS KEPT HUMANS CONTROLLED. In this way, we can operate FROM THE INSIDE and CHANGE THE SYSTEM...

As each of us has CHOSEN TO BECOME INFORMED and TO BRING ABOUT A FREQUENCY ALTERATION on this Planet, WE MUST LEARN TO BECOME KEEPERS OF FREQUENCY. WE MUST RISE TO A CERTAIN PLACE OF KNOWLEDGE AND CONSISTENTLY STAY THERE. WE MUST BECOME IN COMMAND of our body so that we can WILL IT INTO STILLNESS or INTO ACTIVITY. WE MUST be able to GO INSIDE OURSELVES and HEAL WHAT NEEDS TO BE HEALED EMOTIONALLY and PSYCHIC-ALLY. WE MUST begin to PART THE JUNGLE OF SELF and FIND THE CLEARING so that we can show others the way...

18 LESSONS
OF THE LAW of ONE
Cosmic Community
For Conscious Cosmic Citizenship




A NAVIGATOR of INFINITY at THE KOSMIC AFRIKAN MOTHER AMMAZULU.

AMMAZULU is The Great Kosmic MOTHER. AMMA is THE MOTHER of THE ZULU and ZULU means SPACE. AMMAZULU (also spelled "AMAZULU") is The PEOPLE of THE MOTHER SPACE in HEAVEN.... The WOMB of HEAVEN

Studied Knowledge Wisdom at Yunavasity of Cosmic Wisdom. AMMAZULU SON I AM. COSMIC I AM. ZULU I AM. Conscious Cosmic Citizenship. Black Wombman is the Foundation -- is a Race First Community....

This Website is Dedicated to "THE MOTHER" AND "THE WAY" OF "THE MOTHER."

WORDS TO LIVE BY
"MANY are the afflictions of the RIGHTEOUS, but THE GREAT MOTHER and AMADLOZI delivers them OUT of them ALL."

"Beloved, DO NOT think it STRANGE concerning the FIERY LESSONS that are trying you, as though SOME STRANGE THING were happening to you..."