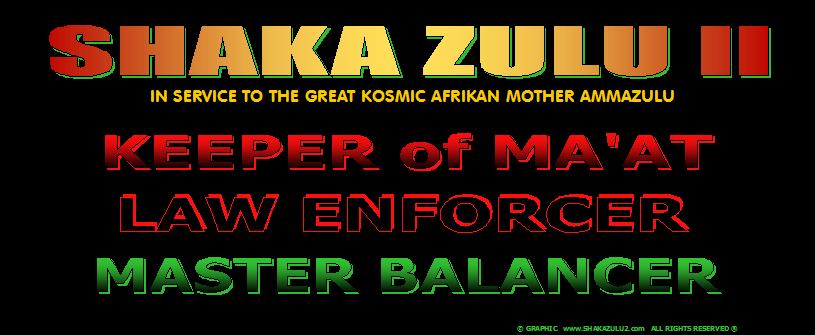 USE THE LINKS ON THE LEFT AND BELOW TO NAVIGATE THROUGH THE INFORMATION SHAKA ZULU SHARES.
Paid Advertisements - ShakaZulu2.com does not endorse the site(s) advertised below. Ads are a source of income only.
End of Paid Advertisements
NAVIGATOR of INFINITY
THE KOSMIC AFRIKAN MOTHER AMMAZULU
AMMAZULU is The Great Kosmic MOTHER. AMMA is THE MOTHER of THE ZULU and ZULU means SPACE. AMMAZULU (also spelled "AMAZULU") is The PEOPLE of THE MOTHER SPACE in HEAVEN.... The WOMB of HEAVEN

Studied Knowledge Wisdom at Yunavasity of Cosmic Wisdom. AMMAZULU SON I AM. COSMIC I AM. ZULU I AM. Conscious Cosmic Citizenship. Black Wombman is the Foundation -- is a Race First Community....

A NAVIGATOR of INFINITY in THE KOSMIC AFRIKAN MOTHER AMMAZULU.
This Website is Dedicated to "THE MOTHER" AND "THE WAY" OF "THE MOTHER".

WORDS TO LIVE BY
"MANY are the afflictions of those who bring MA'AT,
But THE GREAT KOSMIC MOTHER and AMADLOZI
Delivers them OUT OF THEM ALL."

"Beloved, DO NOT think it STRANGE concerning the FIERY LESSONS that are trying you,
As though SOME STRANGE THING were happening to you..."
18 LESSONS
OF THE LAW of ONE
Cosmic Community
For Conscious Cosmic Citizenship